Saturday
Even having arrived late the night before, we still managed to get up at a reasonable hour. We had over eight hours before our flight and we used a lot of the time to explore the TWA Hotel. Amazingly, JFK didn't have its own airport hotel until the TWA Hotel opened in May 2019. The hotel was originally the TWA terminal, designed by Eero Saarinen and built in 1962. It was in use until TWA was folded into American Airlines in 2001, after which it sat unused until the hotel was built. The hotel retained many original features, from the space-age swoops to the floor/wall coverings to the departure/arrival boards (now used for fun messages). The lounge turned into a restaurant and the old gate bridges lead to mini-exhibits on Howard Hughes and Eero Saarinen.
We grabbed breakfast bagels and coffees and hung out in the main area for a while before exploring the mini-exhibits. We also walked outside briefly before settling into the Sunken Lounge for more coffee and reading. We met our friends Jordan and Edward around 1pm and had lunch at the hotel restaurant, followed by drinks at the Connie lounge (formerly an active TWA plane). During our round of cocktails, we met a solo traveller named Mitch who was finishing his first trip to NYC. He joined our conversation and insisted on buying a round for everyone, which was really nice of him. We wished him safe travels home and left for our flight.
We all decided to check our roller bags as we'd be in transit for the next thirty hours or so. We got some refreshments, including two bottles of wine for the flight (EgyptAir is dry but doesn't mind you bringing your own). We boarded quickly and had a smooth takeoff, only to find out that EgyptAir doesn't have corkscrews. So much for that idea. We all had dinner and nodded off.
Sunday
We arrived in Cairo on time, around noon. We quickly cleared passport control and went to the airport hotel to check in and drop our bags. Virginia had used points to rent a suite, which gave us plenty of room to relax. But not immediately – first we had a tour to take. Virginia had also arranged a private tour of the Giza pyramids and the Nile River, and the pyramids close at 4pm. So we were whisked off into heavy traffic by our tour driver as soon as we could get back downstairs.
The pyramids are breathtaking, especially close up. Our tour guide, Muhammad, led us to the two largest pyramids and then up to a spot where you could see and take pictures of all three at the same time without seeing modern Cairo behind them. After taking plenty of shots, we went to see the Sphinx and managed to join the last group to get access that day. From there, we went to the river and took a short boat ride up and down the Nile, passing a number of more modern and opulent buildings on either bank. It was a great contrast with the pyramids.
We were exhausted after the boat ride and headed back to our hotel suite. We ordered room service, opened the wine we'd brought, and enjoyed a leisurely and refreshing few hours before our flight to Johannesburg. Boarding was easy, as was the flight.
Monday
We arrived in Joburg and thankfully experienced a very easy luggage pickup after passport control. Edward arranged an Uber ride (Uber is commonly available in South Africa) to get us from the airport to our Airbnb in Melville, a relatively affluent suburb. The place was just right – a two-bedroom cottage with a decent kitchen and outdoor dining space.
We were all extremely hungry at that point (breakfast on the plane was not good so we mostly didn't eat it), so we walked to a place punningly called Pablo Eggs-Go-Bar. The service was unfortunately extremely slow, possibly because of the holidays. We ended up sticking it out and getting great food and coffee. Thus fortified, we went grocery shopping and then walked back to the Airbnb to relax, have dinner, and get sleep in a proper bed.
Tuesday
We started a little slowly with breakfast and coffee in the Airbnb. This was our museum day (and also New Year's Eve!), starting with the Mandela House in Soweto. We took an Uber there and spent 30-45 minutes going through all the memorabilia and taking in the history. Nelson Mandela had lived there before his imprisonment in 1963, and Winnie Mandela lived there before being banished to the Orange Free State in the late 1970s.
We decided to not linger in Soweto and took an Uber to Gold Reef, the location of the Apartheid Museum. This museum is a must-see when visiting Joburg. Unlike other monuments to atrocities like the Holocaust memorial in Berlin, the Apartheid Museum's story is told by the formerly oppressed black Africans who suffered for so long. It's an unblinking look at a terrible history, starting with the entry where you're randomly sorted into "white" or "non-white" for different paths into the museum. Inside, you're confronted with narratives, images, and videos of the 20th century. Segregation was always part of the country's history; apartheid rose in the late 1940s as a proposed "improvement" on segregation. One of the most powerful displays is a wall with plaques, each one having a single apartheid-related law and when it was enacted. There were dozens of plaques spanning decades, a record of the lengths to which the white government systematically stripped non-white people of their rights and created blockers to any kind of socioeconomic mobility.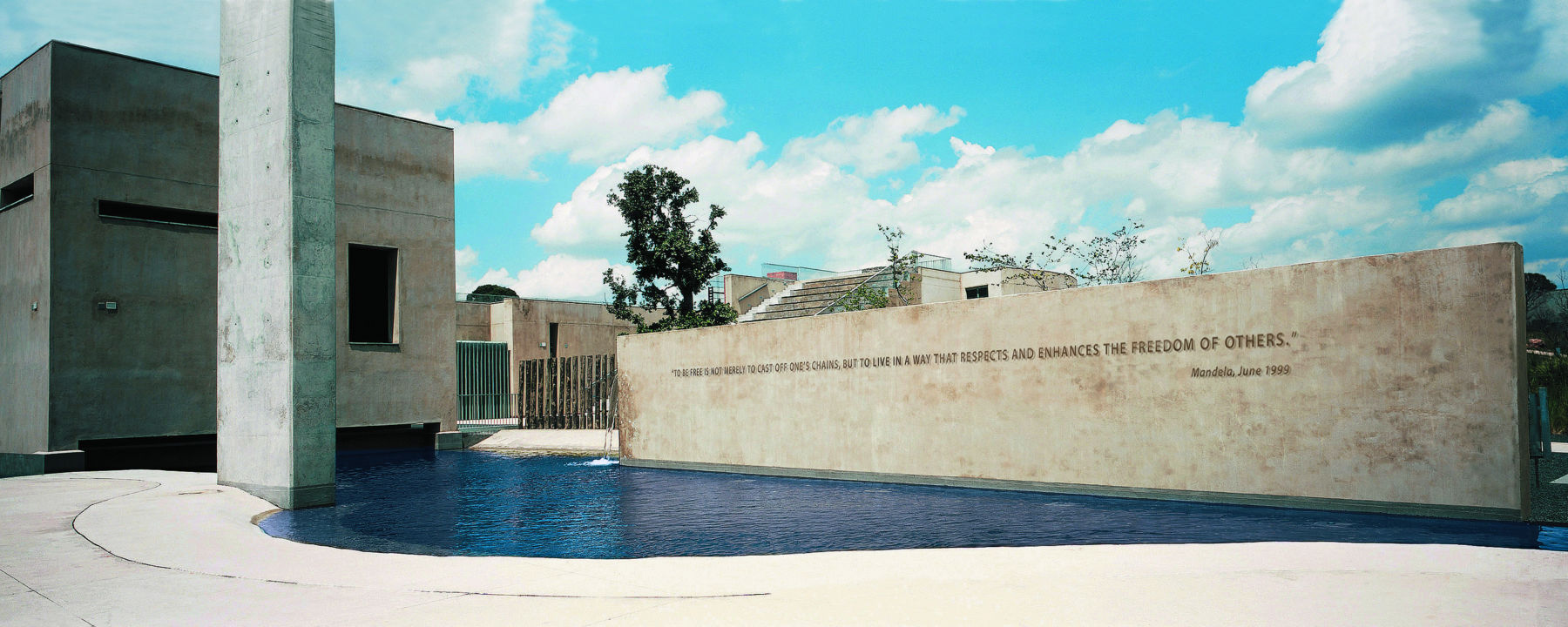 After spending several hours (including lunch) at the museum, we took an Uber back to Melville, grabbed our shopping bags, and ran out for a quick restock of groceries on the idea that nothing would be open the following day. We also walked over to the 27 Boxes mall, built from former shipping containers and emphasizing local shops, and happened upon a place called X&O that makes cronuts and sells premium ice cream. We bought some of both and took everything back to the Airbnb for a quiet New Year's evening of dinner, drinks, and games.
Wednesday
Even though we didn't go out on New Year's Eve, we were up very late and so the next day started similarly late. Our thinking ahead paid off as we mostly stuck to the Airbnb for the day. Thankfully the weather cooperated and we could spend a lot of the day outside reading or talking.
Thursday
We were all up early, surprisingly not as well rested as we'd have liked. But our time in Joburg was over and we had a train to catch. We took an Uber to the train station and found our way to the Premier Classe check-in lounge. We checked in and dropped our roller bags, which would be put into our compartments when we boarded.
We boarded mostly on time. We had two adjoining compartments, which made ad hoc coordinating very easy during the trip. The train ended up leaving almost an hour and a half late, which would be a theme throughout the journey.
Another theme was the quality (and frequency) of food. Lunch was smoked salmon and cream cheese, followed by roast chicken with peas and corn, and finished with a dessert mousse. We purchased a bottle of Chardonnay for the equivalent of about $10, and it was just right. They offered tea/coffee with cake in mid-afternoon, and then a five-course dinner around 7pm (tomato soup; fried hake; beef with roast broccoli and cauliflower; cake and custard; cheese plate). When we weren't eating, we alternately watched the scenery and played games (by this point, Bananagrams had become the main game, followed by Kill Doctor Lucky). We eventually went to our compartments for a good night's sleep.